Support
Updated 30-Sep-2014 — This project has been discussed by various parties for over ten years, and it's thrilling to finally bring it to fruition! The budget for purchase, preparation, transport and installation was just $25,000 — very reasonable for a piece of public art of this size and significance. Fundraising for reburbishment and purchase is complete, and Weeping Cedar Woman now stands temporarily beside Tofino Community Hall, waiting on council's decision as to her final placement.
Some fundraising is still to be done for her permanent base, a plaque and an unveiling ceremony. Donations can be made directly to FOCS from our donation page : type "Weeping Cedar Woman" into the In Honour text box (no tax receipt from us, alas).
Thanks to all members of the coalition working together to bring Cedar Woman home:
Other supporting organizations: District of Tofino, Tla-o-qui-aht Council, Pacific Rim Arts Society.
The piece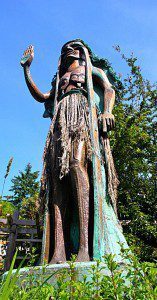 Weeping Cedar Woman is an iconic statue representing an important period in the history of Clayoquot Sound. Godfrey Stephens created her in 1984 in response to the proposed logging of Meares Island.
The 6.4-metre (21-ft) body and tears are of one piece, with hands and feet carved separately and mortised in. Carved from a 300-year-old windfall cedar found by Stephens and Tla-o-qui-aht carver Joe Martin, she stood at various locations in Tofino (including Strawberry Island) for many years. In 2000 she was moved down-island. Earlier this year, she was refurbished at Stephens' studio in Victoria. Click here for a video of the artist talking about his sculpture.
Now, she is back home in Tofino, where she was officially welcomed on Easter weekend, the 30th anniversary of the declaration of Meares Island as a Tribal Park by Chief Moses Martin. She stands in a temporary location by Tofino Community Hall, and the district is in the process of deciding where her permanent home will be.
The history
(An account of Meares Island, written in 1984 by Joanna Streetly)
"Rising up from the ocean, Meares Island and its lush ancient rainforest forms the gateway to Clayoquot Sound. Meares is one of only two large islands on the west coast of Vancouver Island with its ancient rainforest still intact. Only 1% of Meares Island's rainforest has been logged. In 1984, First Nations and Friends of Clayoquot Sound blockaded to prevent logging on the island. This was the first logging blockade in Canadian history. In 1985, the Tla-o-qui-aht and Ahousaht First Nations obtained an injunction preventing further logging on Meares Island and that injunction remains in place today.
"The action in 1984 took place at Cis-a-qis, also known as Heelboom Bay, on the east side of Meares. This bay was intended by MacMillan Bloedel to be a log sort, or booming area. Response from some of the Tla-o-qui-aht was swift. With help from Tofino locals they constructed a cabin at the head of the bay, and started carving three dugout canoes as a demonstration of their traditional use of the forest. It was also hoped that the sale of these canoes would raise money to save the island. Soon Meares Island was declared a tribal park. The media became interested and pressure between the two sides built, culminating when MacMillan Bloedel tried to conduct their first day's work. Moses Martin, elected chief of the Tla-o-qui-aht, greeted the forestry workers, welcoming them to his garden, but requesting them to leave their chainsaws in the boat. It was an epic stand-off."
Addendum: A Tribal Parks declaration was first made by the Haida Nation in their lands. The Nuu-cha-nulth people learned from them, and the Meares Island action in return inspired the Haida to protect their territory from logging, leading to the creation of Gwaii Haanas National Park.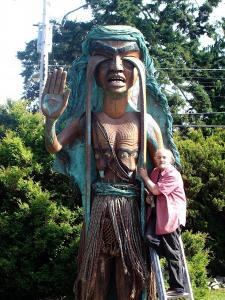 The artist
Born on Vancouver Island in 1939, Godfrey Stephens spent 40 years travelling the world, building sailboats, creating and selling his artwork from his mobile studios. Many of his greatest works were crafted while floating on the waters of Clayoquot Sound.
He came from a family of talented artists and writers, and from early childhood his mother gave him great encouragement. Godfrey is self-taught, and has spent time studying native art, the classics, Greek art and architecture, and the history of ancient sailing vessels. Residing in Victoria, Godfrey continues to paint, draw and sculpt from a turn-of-the-century coach house studio. His style is reminiscent of ancient Greek, 1912 futurism, Picasso and Northwest Coast native art. His own techniques are unique.
Godfrey has been influenced a great deal by world famous West Coast carver Chief Mungo Martin (1881-1962), with whom he had a friendship as a child and young man.
Godfrey is an original and well-respected artist. His works are found in many countries, collections, and public places, including two monumental carved cedar pieces in the Victoria Press Building. Parks Canada commissioned him to make a small sculpture, which he presented to Princess Anne when she dedicated Pacific Rim National Park Reserve in May 1971.
This page includes info originally published in Tofino Time magazine, with additional material from Godfrey's website and other sources.