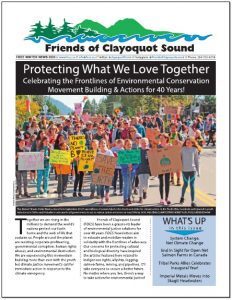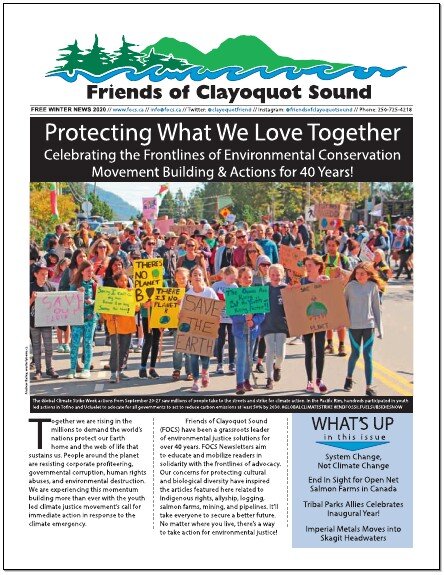 The winter 2019-2020 edition of our twice-yearly newsletter is out, with articles including:
System Change, Not Climate Change
Taking the Street for Climate Justice: Time to Follow the Leadership of the Youth
End in Sight for Open Net Salmon Farms in Canada
FOCS: 40 Years on the Frontlines of Ancient Rainforest Protection!
Indigenous Rights Recognized in BC Law with New Legislation
Tribal Parks Allies Celebrates Inaugural Year!
Clayoquot Salmon Festival Rocks the Sound in 2019!
Imperial Metals Moves into Skagit Headwaters After No Charges for Mount Polley Disaster
plus updates on our campaigns, and action items for you to take forward. Take a read and please share!
Click here to download (PDF, 3MB): FOCS Winter Newsletter, or find print copies at many outlets in Tofino and around BC. Please contact us if you are interested in helping with distribution in your area.