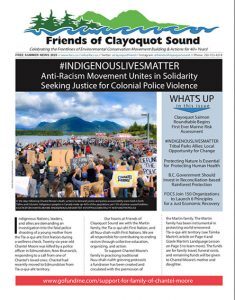 The summer 2020 edition of our twice-yearly newsletter is out, with articles including:
#INDIGENOUSLIVESMATTER: Anti-Racism Movement Confronts Generations of Colonial Violence
B.C. Fails Test of Indigenous Rights Law:

Pipelines Pitted Against Indigenous Title

Clayoquot Salmon Roundtable Begins First Ever Marine Risk Assessment
#INDIGENOUSLIVESMATTER:

Tribal Parks Allies: Local Opportunity for Change. By Tsimka Martin

Mining Cleanup to Cost B.C. Taxpayers $1.2 Billion
plus updates on our campaigns, and action items for you to take forward. Take a read and please share!
Click this link to our newsletter (PDF, 5 MB), or find print copies at many outlets in Tofino and around BC.
Contact us if you are interested in helping with distribution in your area.