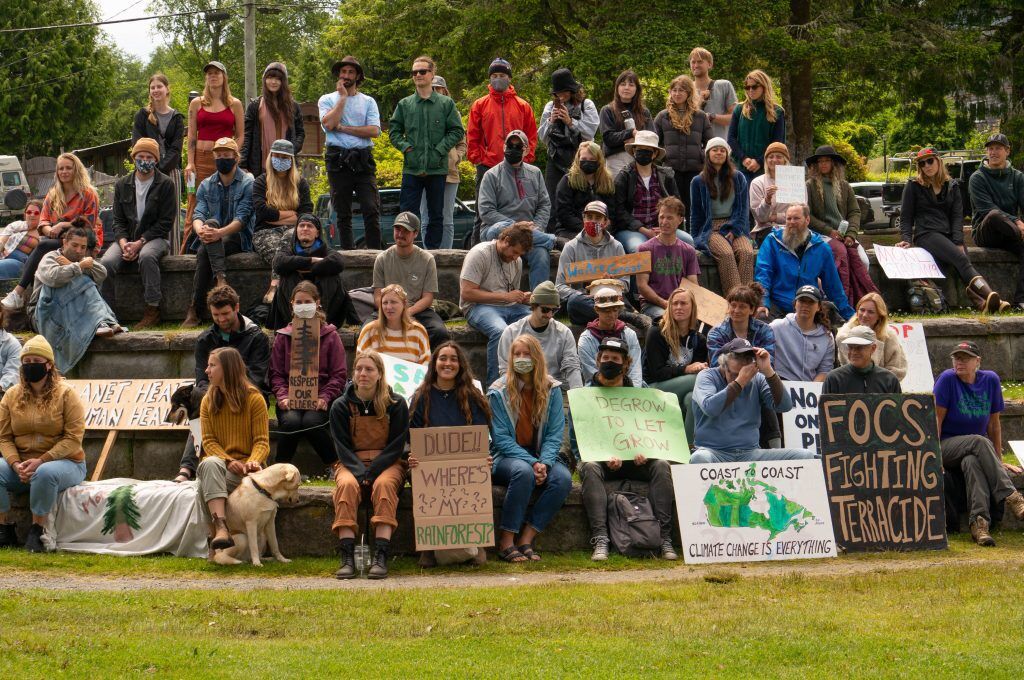 Thanks to all the speakers, performers, and participants at the Protect Old Growth Forests solidarity rally!!
Clayoquot Sound has a strong legacy and community of forest defenders! On Sunday, June 13, 2021, about 150 people came together in Tofino for a time of community building, performance, and holding space in solidarity with forest defenders across Vancouver Island and around the world.
Only 2.7% of big tree old-growth forests are still surviving in B.C. And if nothing changes, they'll be gone forever within the next decade. 90% of British Columbians want to see an end to old-growth logging. Now, climate action also demands that the BCNDP commit to more than just "Talk and Log" policies.
This Solidarity Rally took place on the unceded territory of the Tla-o-qui-aht First Nation, upholding an incredible legacy of care for the old-growth trees. The timing of the Rally coincided with the ongoing Fairy Creek Blockade where 200+ people have been arrested protecting old-growth trees, the #WORTHMORESTANDING Rally at the B.C. Legislature in Victoria, and countless solidarity actions across B.C. and around the world.
The BCNDP needs to implement an immediate moratorium on old-growth logging and create a just transition to a sustainable second-growth industry, including conservation financing and economic alternatives for First Nations. Premier John Horgan, Minister of Forests Katrine Conway, and Clayoquot-Alberni MLA Josie Osbourne — now is the time for your leadership to protect the remaining old-growth forests!
Klecko klecko! In solidarity, thank you.
Here are many ways to continue supporting this campaign to stop old-growth logging in BC:
*Sign the Green Party petition and the Change.org Petition
*Call your MLA – Check out the Stand.earth MLA Action Toolkit
*Call BC Premier John Horgan and Minister of Forests, Lands, Natural Resources Operations and Rural Development Katrine Conroy
*Lobby your Municipal Council to formally oppose old growth logging
*Write a letters to your local newspaper
*Call in to your local radio station
*Make banners and signs
*Stage a demonstration in your community (be COVID safe), at local government offices or other locations
*Rush hour banner hangings on overpasses
*Create a fundraiser for Fairy Creek legal defense fund
*Share information widely through social media
*Find ways to bring what we're doing to the public at large, not just like-minded folks