Please join me in welcoming Kalilah Rampanen to the FOCS team as our new summer student and the Earth Keepers Organizer!
Kalilah Rampanen ~ hassatuk (nuučaan̓uł)
Kalilah's heritage stems from Ahousaht, Tla-o-qui-aht, Cree and Finnish ancestry. She is an established musician, songwriter and performer that is actively involved with raising awareness about Indigenous rights, way of life and the environment. She has been raised with a close connection to the land and ocean of her ancestors and works at building a deeper connection with her roots. Kalilah is currently in high school (Alberni District Secondary School). She strives to strengthen her musical career and focus more upon her culture, language and issues that impact the environment and the ocean. In addition to playing some mean guitar riffs, Kalilah can also wield a chainsaw and operates her own boat.
Kalilah will be leading the Earth Keepers: Youth Arts Engagement Project. Earth Keepers is a pilot project created by Friends Of Clayoquot Sound that engages local youth (13-21) in the creation of artistic projects aimed at building youth leadership, artistic voice, environmental stewardship, and regional connectedness.
The youth will participate in four daytime weekend sessions August 6-7 and August 28 at the Tofino Community Hall with more structured curriculum. To increase youth engagement and artistic development youth also receive guidance from facilitators during Earth Keepers Art Jams on Thursdays in August from 7-9pm at the Tofino Community Hall.
All sessions begins with activity-based learning, and transitions into artistic experimentation and creation. The sessions are designed for up to 20 participants covering the following program:
Session 1: Media Literacy & Storytelling & Photography
Youth learn about media literacy as well as the theories and cultures of storytelling to situate themselves and creating personal narratives. Photography skills are developed to enhance the power of their narratives.
Session 2: Songwriting, Beats, Rhymes, Melodies, & Recording
Youth learn song structures and songwriting concepts, before transitioning into practicing percussion, making beats, writing rhymes, and developing melodies. The workshop concludes with a live recording.
Session 3: Video Storyboarding, Shooting, & Production
Youth participate in organizing video ideas into a storyboard for production including shots, scenes, locations, and characters. Acting as a team the youth will produce a video integrating youth storytelling and music into an overall narrative.
Session 4: Youth Art Celebration with Exhibition & Performance
The project wraps up with youth showcasing their artistic creations for their peers and the greater community. Celebrating the youth's work and understandings of place, environment, and sustainability is essential in building leadership, artistic voice, and regional connectedness.
The program will be based out of Tofino to engage youth from Opitsaht, Esowista, Ty-Histanis and Ahousaht in order to support an interconnected youth culture.
Please share this Earth Keepers with youth you know!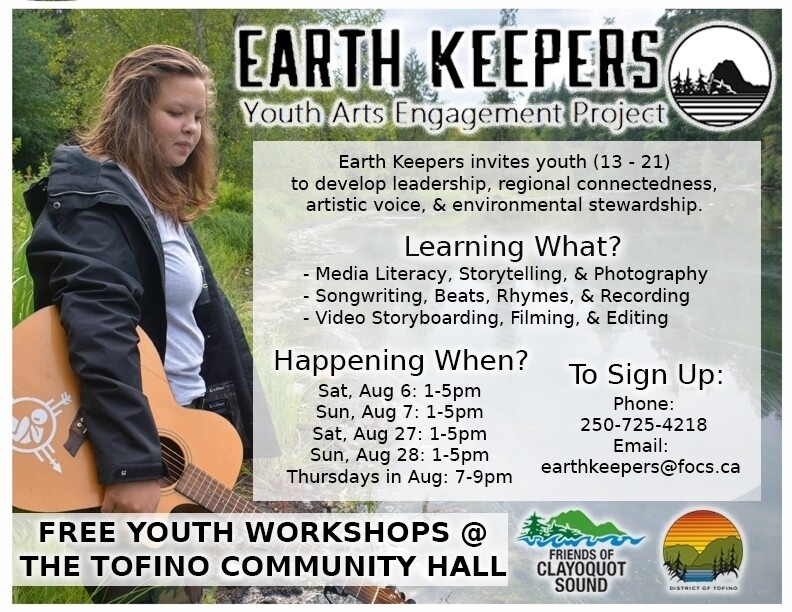 For more information on the Earth Keepers: Youth Arts Engagement Project follow this link