On Friday May 27th, 2016 Imperial Metal shareholders gambled and lost, by holding their annual general meeting at the River Rock Casino in Richmond BC. The Imperial Metals CEO, shareholders, and executives were confronted at their AGM by the Imperial No More activist network of Indigenous land defenders and allies. With representation from the Secwepemc Women's Warrior Society, No One Is Illegal, Mining Justice Alliance, and Friends of Clayoquot Sound, Imperial No More rallied took action at the River Rock Casino Conference Centre to hold Imperial Metals accountable for the company's continuing disrespect for Indigenous rights and ongoing environmental destruction.
Friends of Clayoquot Sound have organized shareholder activism at the Imperial Metals AGMs for numerous years as the company is attempting to push forward 2 mines in Clayoquot Sound. This year, FOCS arranged for Kanahus Manuel of the Secwepemc Nation to be a proxy shareholder at the meeting.
After a Coast Salish welcome, Imperial No More activists escorted Kanahus to attend the meeting, but she was blocked from entering by the RCMP. Guarded by the RCMP, Imperial Metals President Brian Kynoch came out to let Kanahus know she would not be allowed to enter the meeting, despite holding official proxy documentation to attend the meeting. This disregard of Indigenous voices is representative of Imperial Metals mining activities that are in direct opposition to the title and rights of the Secwepemc, Ahousaht, Tla-o-qui-aht, Wet'suwet'en, and Tahltan First Nations. Imperial Metals does not have the free, prior, and informed consent to mine the land as mandated by the UN Declaration of the Rights of Indigenous Peoples, to which Canada is a signatory. Under International Law, Imperial Metals is operating illegally in the unceded territories of the First Nations as the governments of Canada and British Columbia do not have a treaty or purchase agreement to grant permission for Imperial Metals to access the land.
After almost two years of committing the biggest environmental disaster in modern Canadian history, Imperial Metals has not been held accountable for the devastation that 25 million cubic meters of toxic mining waste caused in the territory of the Secwepemc Nation. This environmental disaster continues in Quesnel Lake before flooding into the Fraser River watershed, one of the largest salmon spawning grounds in the world.
Those who took part in the Imperial No More action are angry about the continued destruction by Imperial Metals and they want their voices to be heard by decision makers. Those in the action climbed the fire escape and banged on the locked doors before dropping a banner that read "….". Leaving the Conference Centre, the Imperial Metals Executives and Big Shareholders were escorted by the RCMP, while those in the action used megaphones, loud speakers, and group chants to make sure their voices were heard. The chants echoed the #ImperialNoMore press release:
"Yes To Mother Earth!
No To Mining!
Stop Mount Polley!
Stop Imperial Metals
We Are Chitaapi!
We Are Imperial No More!
We Stand In Solidarity with all Mining Affected Indigenous Peoples Worldwide!"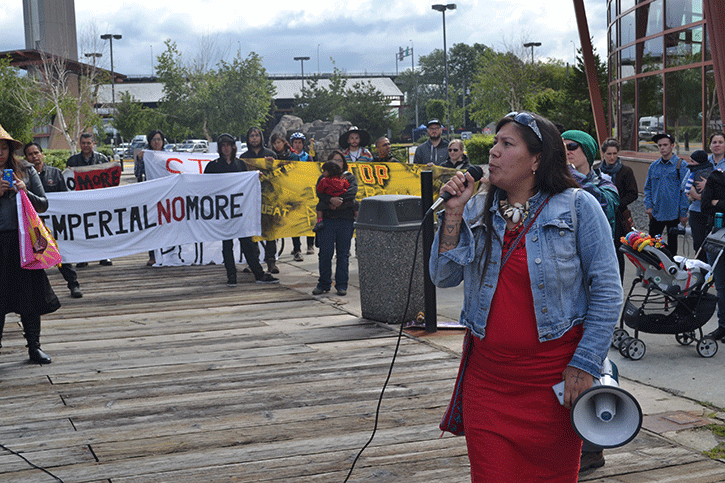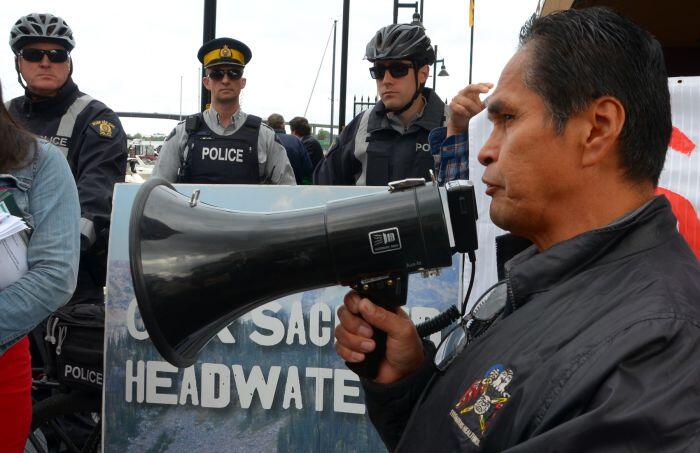 Murray Bush – Flux Photo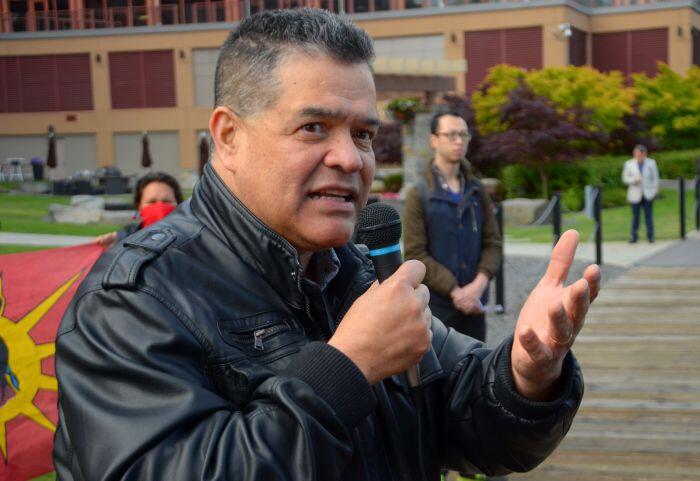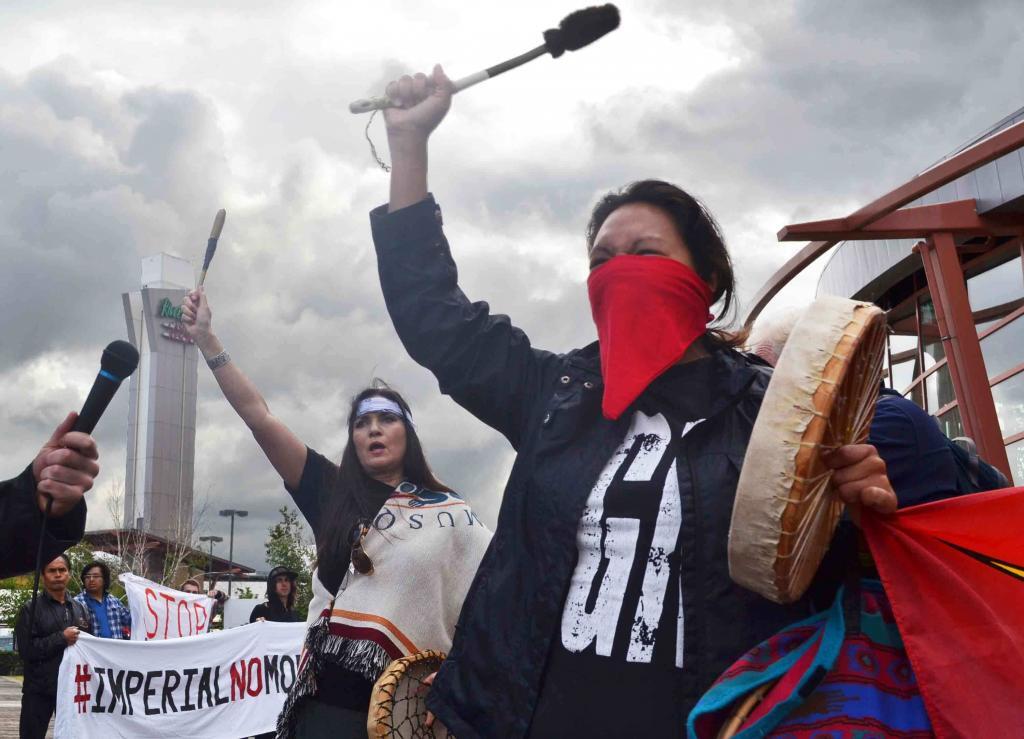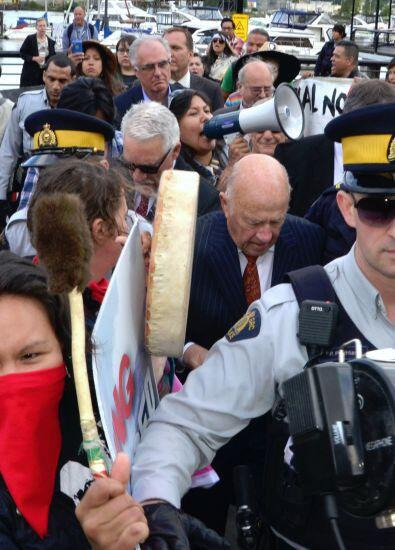 Murray Bush – Flux Photo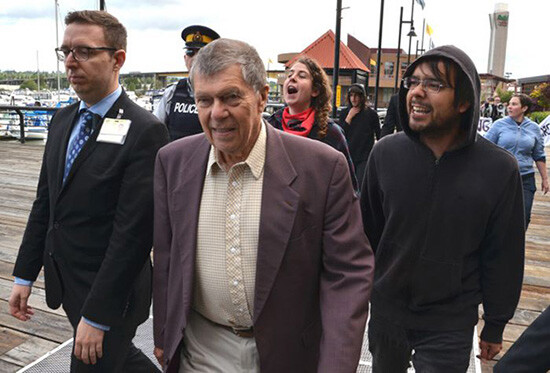 Murray Bush – Flux Photo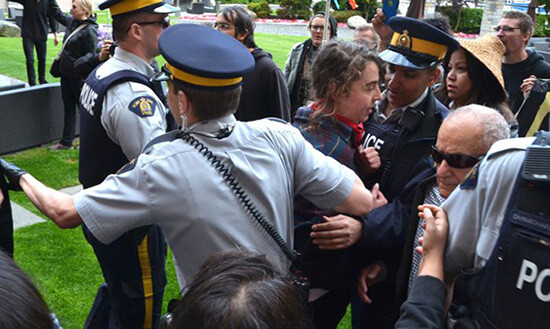 Murray Bush – Flux Photo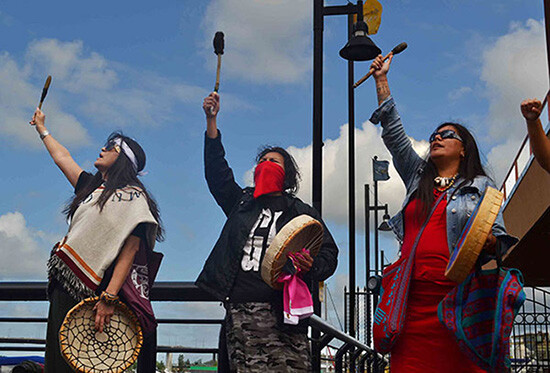 "We the people are the Protectors and Land Defenders and with our allies supporting this indigenous-led resistance, we will make a stand to stop Imperial Metals from violating our rights. Not one more mountain will be mined, not one more water way destroyed in the name of profit, n ot one more tree logged to create roads for these mines."