IDLE NO MORE & DEFENDERS OF THE LAND: CALL TO ACTION
UNsettling Canada 150
In honour of Arthur Manuel, we call for a National Day of Action in support of Indigenous self-determination over land, territories, and resources
UNsettling Canada 150:
Video
Webinar 1
Webinar 2
Upcoming Events
July 1, 2017
On January 11, 2017, our mentor, colleague, friend and brother, Arthur Manuel passed onto the spirit world at the age of 65.
Arthur Manuel was organizing to defend his Secwepemc peoples' and all Indigenous Peoples' Rights up to the day he was admitted to the hospital. In the last article, he wrote before his passing he referred to the Canada 150 celebrations by stating: "I do not wish to celebrate Canada stealing our land. That is what Canadians will be celebrating on July 1, the theft of 99.8% of our land, leaving us on reserves that make up only 0.2% of the territories given us by the Creator."
As part of his campaign against the 150th celebration in Canada, Arthur was also planning to go to Geneva to appear before the UN Committee on the Elimination of Racial Discrimination (CERD) in August 2017 when Canada is scheduled to report on its treatment of Indigenous Peoples. He was preparing a counter-report to inform the world that the Trudeau government is maintaining the colonial Indian Act and it's immoral, illegal land claims policies that deny Aboriginal collective title, treaty rights and our right of self-determination. We will send our own delegation, in Arthur's words, to "escalate the assertion of our rights from a purely domestic strategy to an international strategy across nations." (http://redrisingmagazine.ca/whatare-you-going-to-doabout-it/.)
JULY 1 – NATIONAL DAY OF ACTION
In the spirit of Arthur Manuel, we want to make July 1 a National Day of Action. This day of action is to celebrate our Indigenous and human rights to self-determination, our lands, territories, and resources. It is also to educate Canadians about how their constitutional framework, first established 150 years ago in the British North America Act (1867), illegally confiscated our lands, territories, and resources, spawned the post-confederation Indian Act and attempted to write Indigenous jurisdiction— and Indigenous Peoples— out of existence.
This assault has not stopped. If anything, it has accelerated under the current government. Prime Minister Trudeau has been approving pipeline projects and continues to bank on the exploitation of our resources. He does not want to recognize Indigenous land rights. The National Inquiry into Missing and Murdered Indigenous Women and Girls continues to fall short and fail many families. We will be demanding that the Trudeau government respect our internationally recognized right of land and body self-determination, including our absolute right to Free, Prior, Informed Consent to any activities in our territories, as set out in the United Nations Declaration on the Rights of Indigenous Peoples.
This is a grassroots movement that will never accept any behind-the-scenes attempts to weaken our rights, like the closed door meetings of the Cabinet and a Ministerial Working-Group now underway with the three National Aboriginal Organizations (Assembly of First Nations, Inuit Tapiriit Kanatami, Metis National Council), led by Justice Minister Jody Wilson-Raybould.
DEMANDS:
Instead of backroom manipulations, we demand:
A new open truly Nation-to-Nation recognition process that begins by fully recognizing collective Indigenous rights and Title, and our decision-making power throughout our territories.
Full implementation of the Truth and Reconciliation Calls for Action, including rejecting the colonial doctrines of discovery and recognizing Indigenous self-determination.
Full implementation of the United Nations Declaration of the Rights of Indigenous Peoples on the ground.
We recognize and affirm that jurisdiction over our lands, territories, and resources is inseparable from the issue of self-determination over our peoples. Violence against women, trans, and two-spirit Indigenous people is connected to the loss of authority over our lands. It is worsened by extraction industries that attempt to claim ownership to our lands and our people through acts of violence.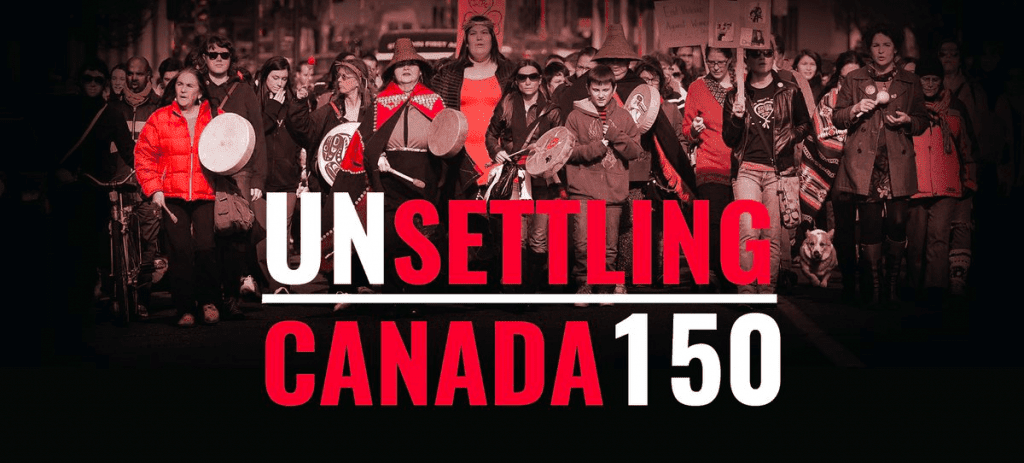 HOW TO GET INVOLVED:
We ask that you, your community, and your organization join us to send a loud and clear message to Canada and the world that we will no longer accept the colonial system of dispossession, dependency, and oppression that Canada has imposed on us for the past 150 years.
Join a national action – find one near you
Take Local Action
Host an event, such as a rally, or a public forum. Email us to let us know what you are planning.Use the Subject "National Day of Action Event." We will promote it on our Idle No More events calendar and post your pictures on social media on July 1, 2017.
On July 1, 2017, wherever you are in Canada, take to social media
Watch & Share this Video .
Visit & Promote the Call to Action Website.
Take part in Webinar 2 Unsettling Canada150.
Tag us @IdleNoMore4 & the Prime Minister @JustinTrudeau and any other government official or agency related to your issue
Use hashtags: #UNsettleCanada150 #SupportIndigenousSelfDetermination #Resist150 #UNDRIPInCanada #FPICInCanada.
Change your Facebook banner to promote this campaign and your activism (see attached banner)—keep it up as long as you like!
Wear Indigenous Rights red & post a picture of yourself taking action to the Idle No More Facebook page. (use the symbol @ before typing Idle No More to tag our page)
NATIONAL DAY OF ACTION (JULY 1, 2017) ENDORSED BY:
Family of Arthur Manuel
Defenders of the Land Network
Idle No More Network
Indigenous Network on Economies and Trade
The Seventh Generation Fund for Indigenous Peoples
Indigenous Climate Action
Unist'ot'en Camp
Secwepemc Women Warrior Society
No More Silence
The Shuswap Lake Coalition
No One Is Illegal – Toronto
No One Is Illegal – Vancouver Coast Salish Territories
Rising Tide North America
Immigration Legal Committee – Law Union of Ontario
Algonquins of Barriere Lake First Nation
Wolastoq Grand Council
Dr Lynn Gehl
Barriere Lake Solidarity
Mining Injustice Solidarity Network
Naomi Klein
Red Nation (Albuquerque)Eagle and Condor Community Center
Decolonize this Place
NYC Stands with Standing Rock Collective
The Latinx, Afro-Latin-America Abya Yala Education Network (LAEN)
The Great Lakes Commons
Fossil Free Guelph
Radio-BED
Native Land 150
Critical Race Relations Consulting
Aamjiwnaang and Sarnia Against Pipelines (ASAP)
Mi'kmaq Warrior Society, Mi'kmaQ territory
Indigenous Women's Association of the Maliseet and Mi'kmaq Territories Inc.
Justice for Migrant Workers (J4MW)
The Women's Coordinating Committee for a Free Wallmapu and Mining Injustice (WCCC)
ALBA Canada
Tonatierra
The Latin American and Caribbean Solidarity Network
Silence No More
Metis Empowered Together In Solidarity
The LEAP Organizing Team
KAIROS
Between The Lines
The Council of Canadians
International Human Rights Association
of American Minorities (IHRAAM)
Jean Arnold – The Analog Forestry Network
The Punch Up Collective
Canadian Dimension magazine
In Solidarity with all Land Defenders
We Love This Coast .com
Graphic History Collective
Toronto Network of Engaged Buddhists
Buddhist Civil Liberties Association
Toronto Buddhist Peace Fellowship
Divest Mount Allison University on Mik'maq territory
Climate Justice Montreal
IPSMO (Indigenous Peoples Solidarity Movement -Ottawa)
Water is Life: Coalition for Water Justice
Friends of Clayoquot Sound
Have your group join us by endorsing the Day of Action! Send your endorsements to info@idlenomore.ca
Want to host your own event in your own territory? Send us your event details. Be sure to include the venue name, venue address, city, province, time and duration of your event, event host and event host contact info. It is up to you, your group or org to provide us with up to date details for your event, should changes be necessary for your event page on the Idle No More website. Send you detailed event listing to info@idlenomore.ca