Clayoquot Salmon Festival was an awesome week! From September 1-7th, we had 8 public events and hundreds attended!!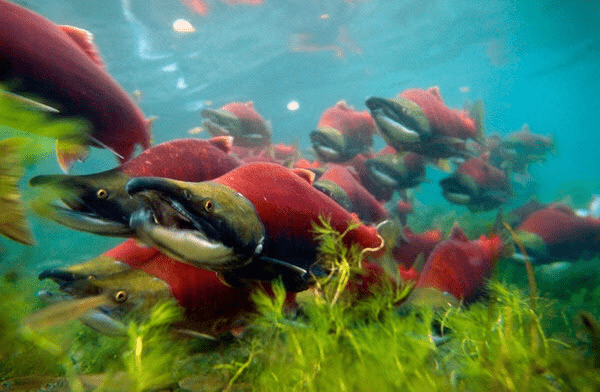 Salmon swimming upstream to spawn.
The Festival kicked off with a welcome and introduction from Terry Dorward of Tla-o-qui-aht First Nations. We screened the latest film of Nat Geo Explorer, Josh Thome, called "Hear The Call: Salmon Nation". Star of the film and Swanson Island Occupation Leader, Ernest Alfred, shared his experience holding the line to protect wild salmon in the Broughton Archipelago. Chief Bob Chamberlain of the BC Union of Indian Chiefs shared the broader political context and strategy of the Indigenous led Wild Salmon Alliance to work together in unity for wild salmon.
Mack Bartlett of Cedar Coast Field Station closed the night reporting on his work monitoring sea lice outbreaks in Ahousaht territory over the summer. Interestingly, during Clayoquot Salmon Festival, Atlantic salmon farming corporation – Cermaq – announced that due to the prevalence of sea lice, their Fortune Channel farm pen would be shut down and closed until late 2019.
Tla-o-qui-aht artist Joe David gifted prints on his design "Wild Beauty" to Hear the Call presenters.
Friends of Clayoquot Sound partnered with 350.org for the Rise for Climate speakers' event where we had an evening of inspiring presentations discussing climate impacts to local solutions. Tla-o-qui-aht Master Carvers Joe David and Joe Martin welcomed attendees. Joe David shared Tla-o-qui-aht teachings related to caring for the Earth, how art and carving play an integral role, and some words related to the Totem Pole he carved which we helped raise in Tofino on September 7th. David Suzuki Foundation Fellow, Melina Laboucan Massimo of the Lubicon Cree First Nation, shared about how Indigenous communities are leading the implementation of clean energy projects, and how women in particular are creating climate solutions critical to addressing the growing impacts of climate change, discussing her work with Tiny House Warriors as an example. The evening also included sharing from Clarissa and Mike Antone of the Squamish First Nation about the Totem Pole Mike carved and was raised earlier this spring outside the gates of the Kinder Morgan oil tank farm at Burnaby Mountain as a statement of natural law and resistance to the Trans Mountain tar sands pipeline.
Gisele Martin, Tla-o-qui-aht Culture and Language Activist, Outdoor Educator and Guide, connected the evening to local solutions being within Tla-o-qui-aht Tribal Parks and the history of resistance to logging in Clayoquot Sound she learned from in 1984 with the Meares Island Blockade and participated in 25 years ago with the Clayoquot Blockades in 1993. Jason Sam of Ahousaht First Nation, who is Chair of Surfrider Pacific Rim, discussed Surfrider's approach to rise above plastics and how that keeps beaches clean protecting ecosystems, reducing oil consumption and climate changing emissions globally. Just today, the Canadian government announced a 22-week National Energy Board review of the TransMountain pipeline in Trudeau's continued attempt to push the pipeline to the coast with no consent or jurisdiction. We remain vigilant.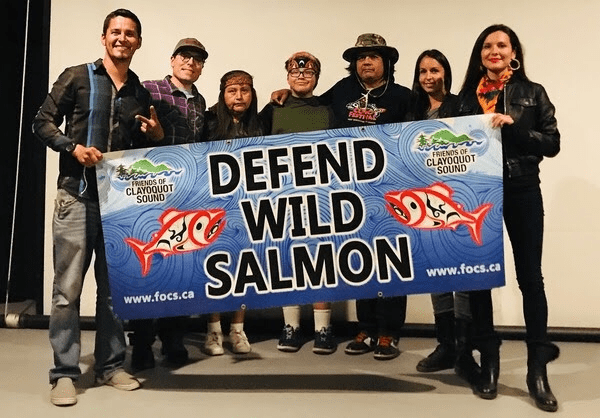 Rise For Climate presenters holding the line: Defend Wild Salmon.
Thanks to everyone who participated and all the contributors for making Clayoquot Salmon Festival a reality! We're already looking forward to next year!!