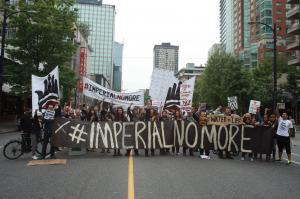 Photo by Nicky Young
"Water is the most sacred, important, beautiful gift of creation", announced Dawn
Morrison, of the Secwepemc Nation, outside the Imperial Metals' annual general
meeting for shareholders in downtown Vancouver.
On Wednesday, May 27 around 50 Indigenous warrior women and activists
voiced opposition to Imperials Metals. A delegation of Clayoquot Sound activists
participated in the action as part of the #ImperialNoMore movement, including
members of the Tla-o-qui-aht Nation, the Ahousaht Nation, Ancestral Pride,
Friends of Clayoquot Sound, and One Kind Mind.
Numerous impassioned voices addressed the Imperial Metals' Mount Polley
Mine tailings pond disaster from August 2014, where 25 million cubic metres of
toxic mining waste dumped into the home territory of the Secwepemc Nation.
The devastation transformed a small four-foot-wide creek into a bloated debris field,
before flooding into the Fraser River watershed, one of the largest salmon
spawning grounds in the world.
"They have not cleaned up their mess. The tailings continue to flow into Hazeltine
Creek, Quesnel Lake, and the Fraser River," described Kanahus Manuel of the
Secwepemc Women Warrior Society. "This is a real urgent concern for us as
Indigenous people because we depend on the salmon."
The activists rallied in front of the hotel where the Imperial Metals meeting was
held. The group of around 50 shut down traffic on Burrard Street and business as
usual in downtown Vancouver. The action occupied the hotel plaza and forced
shareholders inside to use alternate exits.
"Imperial Metals does not have free, prior and informed consent of the
Indigenous nations it is consistently encroaching on," warned Sacheen Seitcham
of Ancestral Pride by a megaphone. "This puts Imperial Metals in a very
precarious situation, a position that is made even more precarious by the
enormity of the Mount Polley mine disaster."
Imperial Metals is attempting to push forward mining projects in the territories of
the Secwepemc, Tahltan, Wet'suwet'en, Ahousaht, and Tla-o-qui-aht Nations,
including two potential mines in Clayoquot Sound. The company recently
applied to the B.C. Ministry of Energy and Mines to reopen the Mount Polley Mine.
Yet, only days before the Vancouver meeting, Imperial Metals had to be bailed
out for $30 million from shareholder and tar sands mogul, Murray Edwards, just
to stay in business.
With significant financial liability and a growing activist resistance, Imperial
Metals has been struggling to keep their doors open.
By Jeh Custerra
Campaigner with Friends of Clayoquot Sound