Tsilhqot'in, Mining, and Tribal Parks; Implications for the West Coast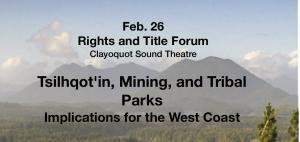 In June 2014 the Supreme Court of Canada ruled that the provincial government had the duty to obtain consent from the Tsilhqot'in people before authorizing industrial activity on their land. This marks a significant legal precedent for Canada. Join our presenters for 3 TED-style presentations as lawyer Drew Mildon walks us through the legal implications of the Tsilhqot'in decision, then film maker Nitanis Desjarlais speaks about her experiences at the site of the Mount Polley crisis, and Eli Enns shares the Tla-o-qui-aht Tribal Parks vision and how that ties to both Tsilhqot'in and mining in Clayoquot Sound. *UPDATE: Tofino Mayor Josie Osborne will join our presenters to speak about what Tsilqot'in means for local governments with a particular focus on the municipality of Tofino and Tla-o-qui-aht territory (Tribal Park). This event will be hosted by Friends of Clayoquot Sound at the Clayoquot Sound Community Theatre on February 26th.
Doors 7:30 event starts at 8 and will run till about 9:30.
Admission is by donation, all proceeds will go to support the Tla-o-qui-aht Tribal Parks.
Date / Time
February 26th, 2015 08:00 PM - 09:30 PM
Venue
Clayoquot Community Theatre
Add To Google
Recent Reports & Publications
Copper Mining – a Primer

|

December 16, 2014




Copper Mining – a Primer Share this: https://focs.ca/campaigns/minefree/primer-copper-mining/