Protect Old Growth March and Super-Rally: Saturday February 25 at the B.C. Legislature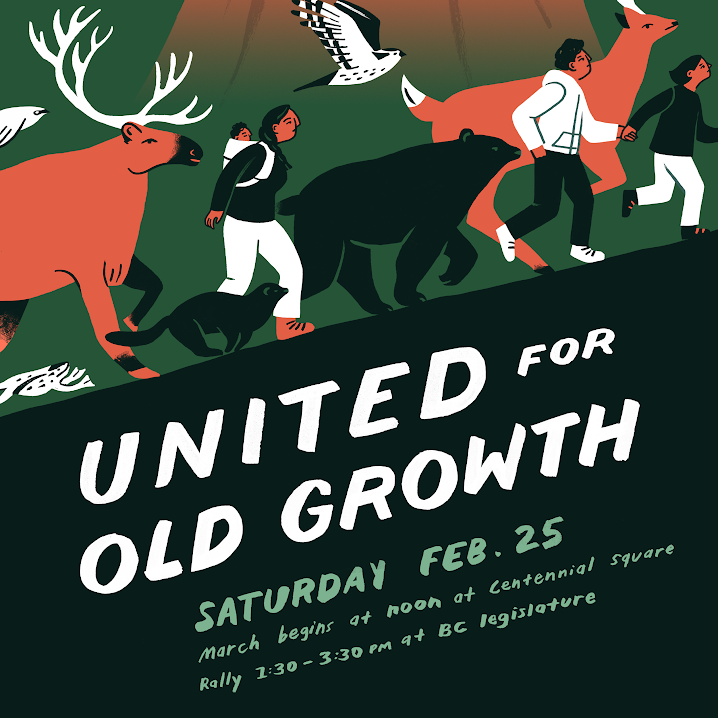 It's been two years since the BC NDP government promised to protect old-growth forests and undertake a paradigm-shift in forest stewardship. But since then, tens of thousands of hectares of the most at-risk stands have been clearcut, and destructive logging practices continue. People across BC and around the world have spoken out. Hundreds of forest defenders have been arrested blockading old-growth logging operations. But the BC government is still not on track to keep its promises. Instead, the government is deflecting responsibility and pursuing Talk-and-Log tactics, as the biodiversity and climate emergencies escalate. No more talk. The time for action is now. On February 25, join a united movement of thousands of people from all walks of life to send a simple clear message to the provincial government: Keep your promises, protect old-growth forests, and reform forestry to safeguard the irreplaceable benefits of intact forests. This peaceful walk and rally will begin at Centennial Square (City Hall) in Victoria, proceeding to the lawn of the Legislature for a rally featuring powerful speakers and performers — full line-up TBA. It's time to show lawmakers that the public will in BC is to protect old-growth forests. We must all stand together in solidarity at the Legislature to demand action from this government.
On February 25th, all out for old-growth forests!
Speakers and performers at the rally include:
Chief James Hobart,Spô'zêm First Nation
Kwakwaka'wakw Hereditary Chief David Knox, Kwakiutl First Nation
Janelle Lapointe, Afro-Indigenous climate justice and Indigenous rights organizer, Stellat'en First Nation
Elder Bill Jones, Pacheedaht First Nation
Rainbow Eyes, land defender, Da'naxda'xw/Awaetlala First Nation
David Suzuki, legendary environmentalist and broadcaster
Dr. Karen Price, independent ecologist and provincial Old Growth Technical Advisory Panel member
Christina Enns, Tla-o-qui-aht/Dakota youth
ANSWER Women's Drum Group
Sarah Osborne, singer-songwriter
Details
Where/When:
Walk – Spirit Square (City Hall), march departing at 12 noon Rally – BC Legislature, 1:30-3:30 pm The walk from Centennial Square will be led by drummers from local First Nations, and feature a strong artistic component –for several months hundreds of artists and volunteers have been creating banners, mobile murals and 3D art pieces in preparation for the rally.
The organizers acknowledge this event is being organized on the unceded lək̓ʷəŋən territories of the Songhees and Esquimalt Nations, and call on all participants to be respectful of this. All forests grow on the territories of Indigenous Peoples, and when we stand together for old-growth, we also stand for the return of land to Indigenous Peoples.
More Info
The goal of this walk and rally is to demonstrate the broad-based support for old-growth protection in BC. We're rallying around calls on the BC NDP government to keep its promises on old-growth, such as the June 2022 resolution by the Union of BC Indian Chiefs.
Transportation
Carpooling
- Need a ride? Offering a ride? Visit
https://www.groupcarpool.com/t/djbxm4
c
If any Elders from local Nations need transportation to/from the rally, please contact
volunteerforoldgrowth@gmail.com
and we will do our best to sort out a ride for you. All are welcome, and we ask for mutual respect for all who come to stand together at this event. Participants are asked to show up in whatever way they feel called to, from their simple presence to more creative artistic expressions. We ask that space be provided for elders and those with mobility needs, and that provided chairs and spaces close to the stage be left to those who most need them. This walk and rally will be outdoors, but masks are always a good idea around lots of people — participants are encouraged to wear one.
Donate
Help make this happen (anything helps!):
https://chuffed.org/project/help-protect-ancient-forests-bc
Volunteer
Can you help make this the historic rally that our old growth forests need and deserve? To make the dream of old growth protection a reality in BC we need dozens of outreach volunteers for postering and other promotional activities ASAP. We also need marshals, set-up/take down, sound tech, elder care volunteers and crew to carry Species at Risk banners on the day of the event. If any of these volunteer roles sound like a good fit or, if you are unsure about these roles but want to lend a helping hand, get in touch today and our volunteer coordination crew will happily onboard you to the team Email
volunteerforoldgrowth@gmail.com
with your name, phone number, and the volunteer role you're most interested in (if any). *** Read more about the Rally
here
. Read the United For Old Growth Declaration
here.
Date / Time
February 25th, 2023 12:00 PM - 03:30 PM
Venue
Add To Google
Recent Reports & Publications
Copper Mining – a Primer

|

December 16, 2014




Copper Mining – a Primer Share this: https://focs.ca/campaigns/minefree/primer-copper-mining/