Clayoquot Salmon Festival: Protect, Educate, Celebrate.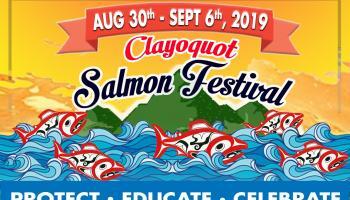 --- Details coming soon! ---
Salmon play an integral role in coastal livelihoods, cultures, and ecosystems in Clayoquot Sound. And they lead incredible lives, starting in fresh water then
migrating to the ocean. Salmon stay at sea for years before their homing instincts guide them back, to the freshwater systems they were conceived in, to reproduce.
Celebrating this magnificent species is what inspires Friends of Clayoquot Sound to organize the annual Clayoquot Salmon Festival!
From August 30th to September 6th there will be a variety of events, with something for everyone. The festival aims to offer residents and visitors an opportunity to reflect upon, and build an active appreciation for, the irreplaceable value of salmon in Clayoquot Sound. At least 137 different species depend on the marine-rich nutrients that wild salmon provide. Millions of people around the Pacific rely on salmon as a healthy and reliable source of protein. Pacific salmon fuel a multi-billion industry, supporting tens of thousands of jobs and local economies and communities around the Pacific Rim.
Throughout Clayoquot Sound, the remaining intact salmon watersheds composed of free-flowing rivers and dense forests, provide clean drinking water and absorb carbon, helping to guard against the worst impacts of climate change.
The Clayoquot Salmon Festival is timed to coincide with the return of the salmon for spawning on the west coast.
Anyone who has witnessed salmon hurling themselves upriver and over obstacles during the spawn knows their tenacious drive to give life to the next generation. The Festival has prioritized celebrating the return of the salmon together as a community with a creative spirit and stellar music.
To volunteer for the Clayoquot Salmon Festival contact the festival organizers at info
@focs.ca
or 250.725.4218
. To stay up to date with location specifics, participating businesses, and updates, please check the festival website
www.focs.ca/salmonfestival
or Clayoquot Salmon Festival on Facebook.
See you there!
Date / Time
August 30th, 2019 08:00 AM - September 6th, 2019 09:30 PM
Venue
Add To Google
Recent Reports & Publications
Copper Mining – a Primer

|

December 16, 2014




Copper Mining – a Primer Share this: https://focs.ca/campaigns/minefree/primer-copper-mining/