Building Sustainable Pathways
The Trail Building project aims to increase accessibility and length of trails found within the Clayoquot Sound region as a conservation strategy. The project will engage both visitors and residents in Clayoquot Sound's old growth forests to create sustainable and positive interactions between people and the natural environment.  Well-maintained accessible trails bolster the sustainable tourism industry in the region and bring more people and more awareness to the ancient forests.
The project will be carried out over the summer months, encompassing Three weekends of hiking, flagging, trail upgrading and trail clearing in the old-growth temperate rainforest.  Two sessions will take place on the Wild Side Trail with the Ahousaht Maaqutusiis Hahoulthee Stewardship Society, and one session will take place in the Wah-nuh-jus – Hilth-oo-iis (Meares Island) Tribal Park in Tla-o-qui-aht Territory.  We will be working hand in hand with First Nations land stewards, guardians, and the Wilderness Committee to protect ancient forests from logging.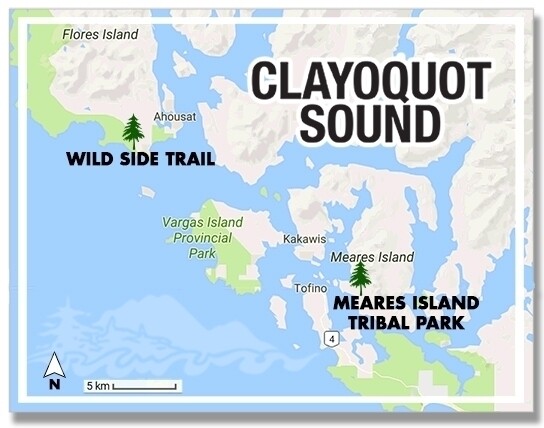 Trail build with Friends dates:
June 16-19: Wild Side Trail – Flores Island (Camping Trip)
July 8-9: Wah-nuh-jus—Hilthoois Tribal Park Meares Island  (Day trips)
August 25-28: Wild Side Trail – Flores Island (Camping Trip)
The "Trail Building with Friends" program provides participants with a hands-on educational experience to learn about critical environmental issues while building community networks and capacity for proactive environmental stewardship.  Our trail-building trips require physical health and the ability to carrying heavy loads, hike long distances and coordination to swing a hammer. Our reward will be a super memorable experience and a true west coast adventure!
We will set up transportation from Tofino as well as will provide you with the required tools and guidance
You are in charge of bringing your own camping gear and food
Please fill and email the following documents to take part in the Trail Building weekends!  If you need more information contact us at 250-725-4218 or email us at info@focs.ca.