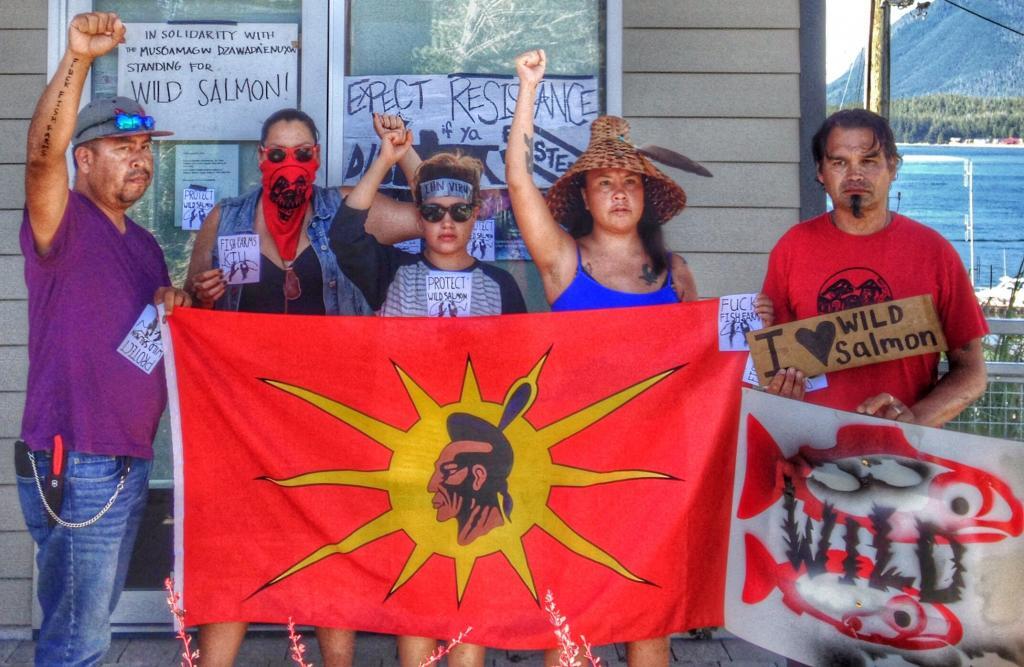 On August 22, 2016, Cermaq, the Mitsubishi-owned fish farming corporation, was transporting a barge loaded with Atlantic salmon smolts to reopen a fish farm in Dixon Bay within the territory of the Ahousaht First Nation. Previously, Cermaq had an open-net pen Atlantic salmon feedlot at Dixon Bay but it was shut down in 2012 after an outbreak of infectious hematopoietic necrosis virus, also known as IHNv.
Wild Salmon Protectors from the Ahousaht First Nation are concerned about Cermaq reopening the Dixon Bay farm as it is sited near the Megin River which provides critical spawning habitat for wild salmon.  Salmon farms are known to endanger wild salmon, primarily by transferring diseases and parasites. The Protectors have made their voices heard emphasising that reopening the Dixon Bay fish farm for Atlantic salmon is without the consent of the people of the Ahousaht muschim (community).
On August 23rd, over the course of 24 hours, the RCMP arrested and served papers to the 4 Indigenous Wild Salmon Protectors, with allegations of mischief and intimidation. There are four Indigenous Wild Salmon Protectors going to court. Friends of Clayoquot Sound are fundraising for the Wild Salmon Protectors legal defense and travel. Any unused funds will go to a legal defense fund held in trust by FOCS for future wild salmon actions and legal defense.
–MORE INFO COMING SOON–