You are here:
Threats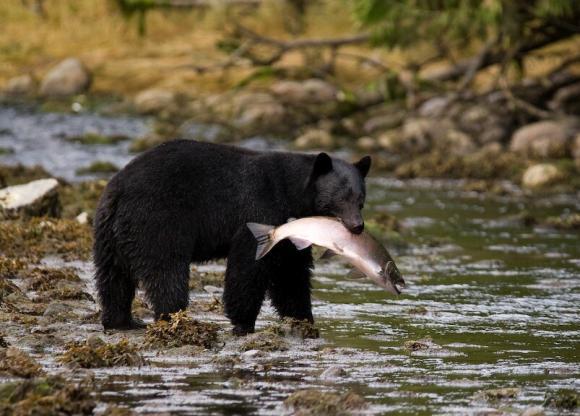 Threats
Salmon feedlots have many negative ecological impacts, including:
• discharge of untreated "salmon sewage" and chemicals directly into the pristine ocean waters of Clayoquot Sound
• escape of farmed salmon into surrounding waters
• transfer of diseases and parasites (such as sea lice) from farmed stocks to wild stocks
• shooting of seals and sea lions (predator control)
• accidental drowning of seals and sea lions in fish farm nets.
Wild salmon are in exceptional decline everywhere open net-pen salmon farms (feedlots) are in operation around the world (Myers and Ford 2008).
BC's wild salmon stocks are in serious decline. Even places like Clayoquot Sound, which have great salmon habitat, are seeing salmon numbers plummet. In 2009 the federal government set up a Commission of Inquiry into the Decline of Sockeye Salmon in the Fraser River (the Cohen Commission) to figure out why the Fraser River sockeye were dying before they could spawn.
At the Cohen Commission, a federal Department of Fisheries and Oceans (DFO) document relevant to Clayoquot Sound showed up. It revealed that Creative Salmon has been struggling in Clayoquot with an undiagnosed fish disease since 2005. Dr. Kristi Miller was funded by DFO to help diagnose the severely jaundiced fish. She found two deadly viruses present in Creative Salmon's farms, Infectious Salmon Anemia virus (ISAv) and the newly emerging Piscine Reovirus, which causes HSMI (Heart and Skeletal Muscle Inflammation).
However, the DFO and Canadian Food Inspection Agency have denied the presence of ISAv and insist that Piscine Reovirus does not cause disease. Since the publication of the Cohen Commission Report in 2012 a study has been commissioned to investigate the prevalence and types of disease in Pacific salmon: we hope the results of this new study by Dr. Kristi Miller will be published soon.
In the spring of 2012 two of Cermaq Canada's farms in Clayoquot Sound were found to have Infectious Haematopoietic Necrosis (IHN) virus, which is naturally occurring in wild fish locally. The feedlots amplify this virus, and can then transfer it back to wild fish. It turns out Cermaq did not vaccinate against this known disease, putting wild fish at risk to save a few dollars. The diseased fish of marketable age were harvested and sold for human consumption without being labelled as diseased.