You are here:
Solution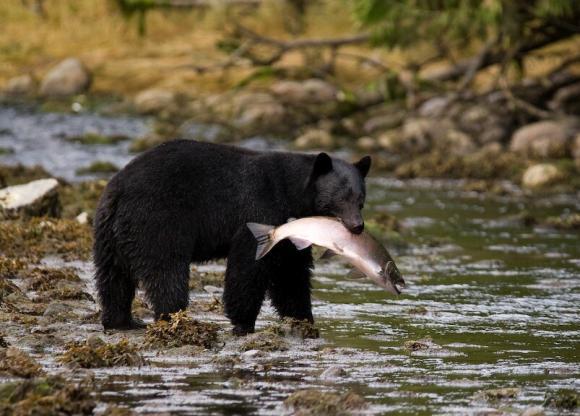 Solution
To protect the marine environment and wild salmon, open net-pen salmon farms need to be moved out of the ocean and into closed-containment systems on land.
Closed-containment systems on land eliminate many problems, including fish escapes and the killing of predators such as sea lions. With proper treatment of waste water, they also eliminate the problems of salmon sewage and transfer of diseases to and from wild fish populations.
Interior of Module 1 of the Kuterra closed-containment farm, designed to produce 470 tonnes of Atlantic salmon per year. The farm, owned by the 'Namgis First Nation and located south of Port McNeill on the east side of Vancouver Island, began commercial operation in 2014. At far right is the wall of the quarantine unit, where newly arrived smolts live for four months, before being transferred to the five round grow-out tanks. Back left is a depuration tank, where the fish spend about 10 days before harvest. In the aisle is the harvesting table and the pump that moves fish between tanks. Foreground is the water cleaning unit with three white drum filters, which remove solids, the CO2 stripper bed, and on the left is the biofilter unit, which removes nitrates and related metabolic products. Click to enlarge. Photo: Kuterra LP
The main argument against using closed-containment systems on land is that corporate profits would be reduced. Without true-cost accounting, the expense of dumping untreated farmed-salmon sewage into the pristine waters of Clayoquot Sound is borne by the ecosystems and by society at large. Land-based closed containment would transfer these costs back to the industry, which should rightfully bear them.
Recent research and numbers from the Kuterra salmon farm suggest that closed-containment is competitive with open net pen farmed salmon on a unit production basis.  The largest difference in production remains the high start-up cost of a closed containment facility.  Higher start up cost could be considered the "true cost", though it is difficult to fully quantify the impacts open net-pen salmon farms have on the environment. Once running, the production cost of closed containment salmon is predicted to be at or below the production cost of open net-pen salmon and returns are expected to come in at a premium. (See the Tides Canada study linked below.)
Friends of Clayoquot Sound recognize that there is significant local employment in the salmon aquaculture industry, particularly in First Nations communities. The shift to closed-containment must be accompanied by an economic transition plan to ensure good alternative economies are promoted within the Clayoquot Sound region. There is potential here to develop alternative employment in sustainable fisheries from rejuvenated marine environments and in other forms of aquaculture, such as oyster farming.