You are here:
Threats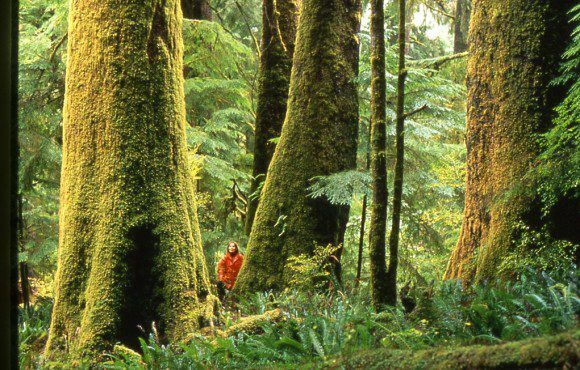 Threats
Temperate rainforests are a rare and globally threatened ecosystem. It is hard to imagine in this age that monumental trees continue to be mowed down and turned into lumber and paper products. Yet that is happening daily in Clayoquot Sound.
To be fair, current cutting is done to the standards of the 1995 Clayoquot Sound Scientific Panel. But those recommendations have never been fully implemented, and no monitoring has been done to see whether indeed the new, "improved" logging methods are working. When you walk into a modern cutblock, you still see the ecosystem devastation that roads and clearcutting bring. (Most cutblocks are "clearcuts with reserves," meaning clearcuts with individual trees and patches of trees left standing.)
About a quarter of Clayoquot Sound has been cut. Since 1995, various companies have continued to chip away at what is left. They have been prevented from cutting trees in the intact (never logged) valleys, thanks to the vigilance of Friends of Clayoquot Sound and our allies. But now they are running out of options in the fragmented areas of Clayoquot; hence the pressure to log in the remaining intact areas is mounting.
In 2010, Friends of Clayoquot discovered that surveyors were working in intact valleys on the east side of Flores Island in Ahousaht territory, laying out planned logging sites and roads. Flores Island was one of the intact areas off limits to logging as per the 1999 Memorandum of Agreement between Iisaak Forest Resources and major environmental groups — the agreement that ended the "war in the woods," with its decade-long protests and market campaigns.
Since then Iisaak has received a permit from the provincial government to build a road into the intact rainforest of Flores Island, a wilderness gem with some of the densest stands of big trees in Canada. It has also received permits to heli-drop logs into the ocean nearby. But in 2012, Iisaak withdrew its cutting permit application for Flores Island, a permit that would have allowed logging to begin. It has also not moved ahead with road building.
Friends of Clayoquot Sound are keeping a close eye on the situation.