You are here:
Solution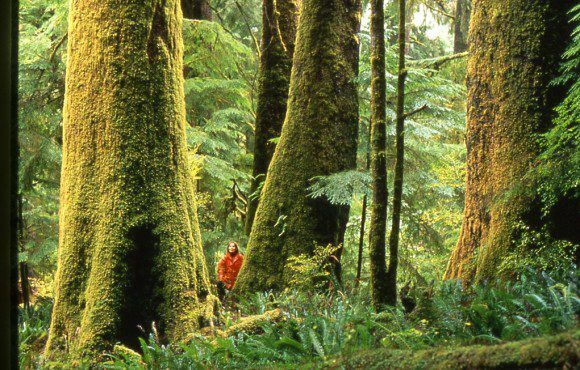 Solution
A new approach: Conservation Financing
Clayoquot Sound's renowned wilderness has placed it at the forefront of leading conservation initiatives. However, in reality, little progress has been made in protecting Clayoquot's remaining ancient forests or in advancing the title, rights and community aspirations of the region's First Nations. With few economic alternatives in sight, and with debt accumulated by buying out forestry tenures, there is growing pressure for First Nations leaders to allow logging in some of Clayoquot's last remaining intact rainforest valleys. However, there are solutions.
The Clayoquot Sound Conservation Alliance (CSCA), an alliance of six environmental organizations — Friends of Clayoquot Sound, ForestEthics, Greenpeace, Natural Resources Defense Council, Sierra Club BC and Wilderness Committee — is working to address the ongoing uncertainties about the fate of Clayoquot's forests.
The CSCA is currently in advanced discussions with two First Nations in Clayoquot Sound to explore and develop a lasting solution to protect the remaining intact rainforest valleys and islands (74,000 hectares) within their respective traditional territories. Our aim is to work with First Nations to protect the intact forest areas in conservancies (a protected-area designation specifically designed to respect First Nation traditional uses), and to raise funds to assist First Nations communities in building a conservation economy as an alternative to logging old-growth forests. This approach is called conservation financing.
Conservation financing was used as part of the Great Bear Rainforest Agreements (a far-reaching agreement between environmental groups, First Nations, industry and the province on the north and central coast of BC), and may provide a model for solutions in Clayoquot Sound.
This approach to conservation is grounded in an understanding that conservation and community well-being are both essential to a long-term solution in Clayoquot Sound. It is a just and equitable model of conservation and we're excited and honoured to be exploring it with First Nation communities in Clayoquot Sound.
–Lee-Ann Unger, Coordinator, Clayoquot Sound Conservation Alliance
Learn more:

Visit this page to learn more about Clayoquot Sound's remaining intact valleys.